DESERT GOLF: A CONSTANT BATTLE BETWEEN SUMMER BERMUDAGRASS AND WINTER RYE GRASS! WHAT WE DO IN THE SUMMER IMPACTS THE WINTER AND VICE VERSA!
DESERT GOLF: A CONSTANT BATTLE BETWEEN SUMMER BERMUDAGRASS AND WINTER RYE GRASS! WHAT WE DO IN THE SUMMER IMPACTS THE WINTER AND VICE VERSA!
By Jill Riedel, Director - Greens and Grounds & David Escobedo, Head Superintendent
Desert golf is a wonderful thing with different challenges in summer and winter. Arizona year round golfers would love to have winter conditions all year, but alas, that is a quest very difficult to acquire, if not impossible. Even the high-end resort courses can't promise the same playability in both seasons. This also leads to why AZ golfers can find great rates during the summer at ALL courses in the Valley. The high-end resort courses have a larger budget that is mainly drawn from very expensive winter golf and high dues. These larger budgets provide them the revenue to get closer to that goal than WBVGC can. That is not an excuse, it is a fact, and is the basis for our vision of our "value" bubble to get the best OUR money can buy and what we are willing to pay.
The link between the two seasons is greater than just the temperature. The program we follow to begin waking the dormant bermudagrass in February and strengthen it through September has a huge impact on our October overseed and the winter grass performing through our prime season (November – April). And vice versa. There is no break for the maintenance crew from doing what needs to be done year round to have the best possible outcome for year round golf for our members and their guests. We golfers focus on the lie, the roll, the color, the fun. Our grounds crew focuses on these areas as well, but have to pay special attention to what is going on underground. They focus on the health of the grass, no matter the season, and have to think six months to years down the road.
Below is a link to a USGA article detailing how superintendents in the southwest MUST have a proactive management summer transition program to encourage the bermudagrass recovery in order to have the summer play we see today. The article addresses the following:
Height of cut
Soil moisture management
Chemical removal
Nitrogen inputs
The need for 100+ days for the bermudagrass growth in the absence of competition from rye grass
Three Strikes and Bermudagrass is Out (USGA Article)
EVERY member could take one look at our old common bermudagrass this summer and admit our Superintendent and Mother Nature managed this very well. And this year we experimented with a raised cut on Vistas from 9/16" to 11/16" only because at that time we had most of the rye grass gone and Mother Nature had provided additional nutrients and health to the bermudagrass. We don't get this type of weather every year like we did this year and it has been quite a few since our last. We are in a very good position for the overseed program to encourage the bermudagrass back to dormancy while we lay rye grass seed for our winter season. The summer transition protocols that David followed resulted in giving us a good base for the winter transition at both courses. There is a winter transition program to follow from overseed in October to February. Then it starts all over to prepare the courses for killing the rye grass and waking up the bermudagrass.
WINTER IS A COMING!
Overseeding is a challenge to get one grass to sleep and one grass healthy and strong for winter play. It is hoped both grasses do what they need to do at close to the same time so we don't have large bare spots. The program David uses is based on years of USGA and other agronomist studies and research, shared success and failures with other Valley Superintendents like those at TPC, Desert Highlands and many other courses who have adopted the goal to improve the health and transition of their golf courses. David then tweaks those practices to fit our budget and the type of grass we have. As stated in our video on "mowing heights" we are getting the most we can get out of this old common bermudagrass. It is not possible for it to perform like the new hybrids that many courses put in during development or are converting to.
REDUCING MOWING HEIGHTS FOR PREPARATION OF DROPPING RYE GRASS SEED.
The first step in preparing for dropping rye grass seed is to begin a gradual lowering of the mowing heights on our tees, fairways, greens and roughs. Below is the schedule that will be used this year. It will be posted on the member web page in the "Course Conditions" drop down for easy review. All dates and mowing heights are subject to change due to weather or other unforeseen issues.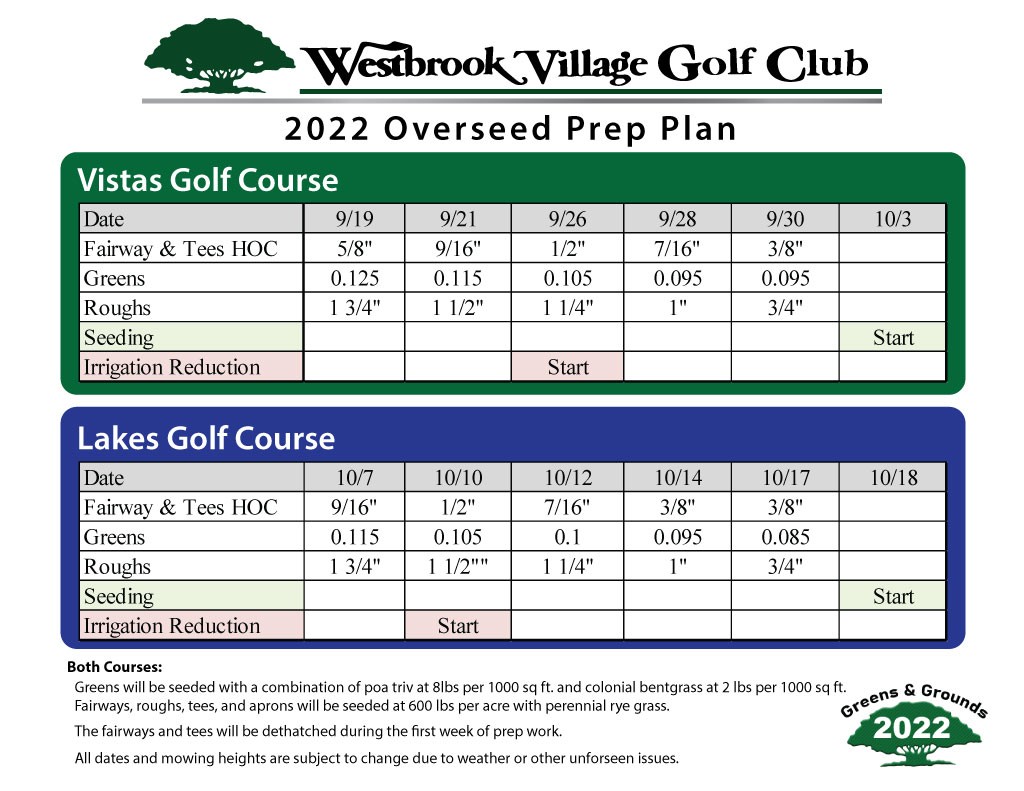 DON'T BE AFRAID TO ASK QUESTIONS!
As we roll out the program David will let you know what to expect on the golf course. Please feel welcome to ask any questions you might have about the care of our golf courses by emailing
bod@wbvgc.com
.
Respectfully,
Jill Riedel and David Escobedo