WBVGC: Greens and Grounds Update - Spring is Here - The Bermuda Grass is Waking Up
It's hard to believe, but spring is upon us already. With temperatures close to the 80s we can see the plants and flowers coming out of dormancy. This includes the Bermuda grass (summer grass). The Vistas Course has a great jump on summer transition as many of the fairways are already 40% to 50% Bermuda. The Lakes Course is coming along too but will need our assistance to push it through. The next several weeks will be critical in the summer transition process. With that being said we will be lowering the height of cut at both courses to assist the Bermuda grass. We will also be doing a light vertical mowing (verti-cutting) at the Lakes Course to expose the coming Bermuda to sunlight. The more sunlight we provide the faster the transition process will be. I do not believe we will need to vertical mow the fairways at the Vistas Course at this time.
As the Bermuda grass comes out of dormancy it is important that we provide enough sunlight and moisture to keep the Bermuda grass growing. Doing so will help us have a much better transition from winter grass to summer grass. Without these procedures the Bermuda grass will not thrive which will lead to issues that will prolong the transition process which will also impacts next seasons overseed.

Another aspect to the spring warm up is that we will no longer be adding seed to the divot mix. The divot mix will now be straight sand.

I hope that everyone will continue to enjoy both golf courses and the beautiful weather that accompanies it.
Wednesday, February 22nd - CART PATH ONLY!
Both courses are cart path only today, Wednesday, February 22nd, 2023.
Thank you,
WBVGC Staff
Greens & Grounds Update - Fairway Slicing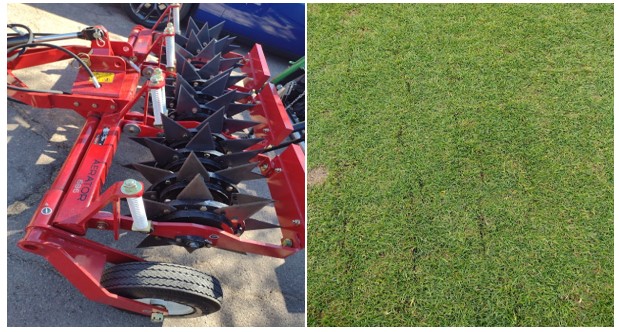 As the wetter than normal winter continues the golf courses are taking in water better than they have in previous years. We believe this is attributed to a new fairway aerification program we have adopted that creates pores in our rocky hard clay soil. These pores allow water and air to enter the soil deeper than anything we have done before. The process I am talking about is called "Slicing". Slicing creates a thin gap in the soil with minimal disruption to the golfer.
The benefits of slicing are significant. With the amount of golf cart and mower traffic our fairways deal with it is imperative that we keep the soil from getting compacted and impermeable. Slicing blades penetrate the soil 3 to 4 inches deep. They fracture the soil and create a slit that allows air and water to enter the root zone without creating holes like other aerification practices do. This results in less surface disruption.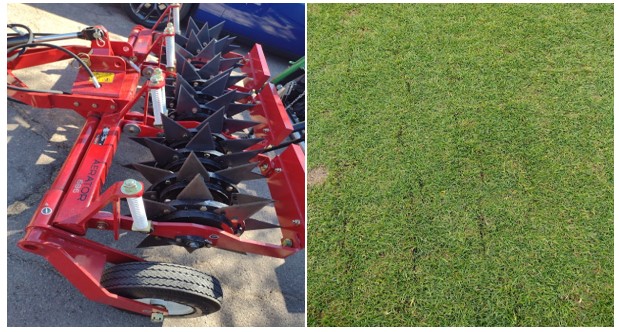 To obtain the maximum benefits of slicing we need to Slice regularly and not allow the soil to return to its concrete like characteristics. It is recommended that we Slice every two months or so in the winter and monthly in the summer. Slicing regularly will improve water penetration which improves grass roots and helps prevent wet course conditions.
I have been asked by some why we do not leave these practices for the summer and avoid interrupting the great condition of the fairways during the winter. My best answer is because there is no great time for the golf courses to be in bad shape. Slicing regularly insures that our fairways and high traffic areas avoid compaction issues that sacrifice turf quality. I compare this practice to changing the oil in your automobile. It's a small inconvenience but not doing it will create major issues.
With all this being said I hope everyone has a wonderful 2023.
David Escobedo, GCS
WBVGC: Both Courses Closed for Golf Again Due to Rain - Practice Facilities are Open - Another 25% OFF Rainy Day SALE Inside the Shops
*|MC_PREVIEW_TEXT|*
Both Courses are Closed Today for Golf
Golf Shops and Practice Facilities will be Open
Tuesday, January 17th, 2023
Due to the heavy rains we received yesterday and last night we have new lakes on most our golf holes. Unfortunately, these new lakes occupy the middle of most the holes and we have to close the courses for a second day. The weather looks like it is going to cooperate today and the grounds crew will be spending most of the day pumping water off the courses, attempting to dry it out for tomorrow.
It looks like the rain is finally over, however it appears it is going to be abnormally cold for the rest of January with very cool mornings. Please check for potential frost delays in the days to come.
Both courses practice facilities will be open today and we will be having another 25% Off Rainy Day Sale! Rain days are great shopping days!
Thank you all for your understanding.
WBVGC:  Winter is Here - Frost Delay Policy - Next Week Will Be Cold - Thursday Alternating Double Shotguns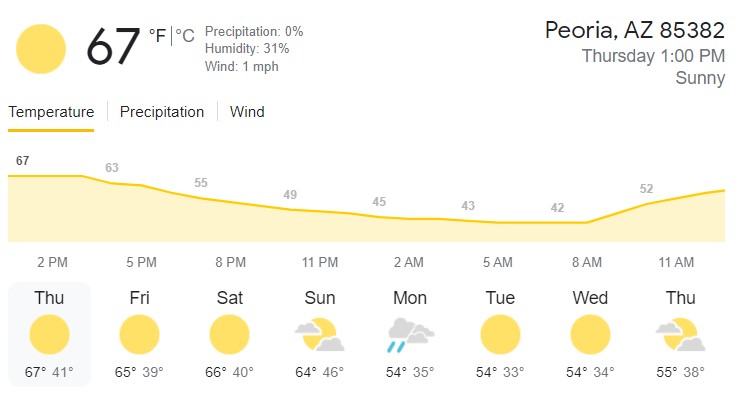 *|MC_PREVIEW_TEXT|*
Winter is Here
It is somewhat cold now in the mornings, but it is supposed to be very cold next week. We are attempting to setup the tee-sheet as late as we can in anticipation of any delays, however we still have a high demand on certain days of the week.
As the weather is supposed to be extremely cold next week, please make sure to call or check online for frost delays before heading to the course. When you call the club (623.566.4548) the course conditions/delays will be the first item you hear. Please listen for the date as sometimes we do not have full details until about 7:30am. You may also check online in the members portal or at https://westbrookvillagegolf.com/course-conditions/frost. In addition, staff will send out Chelsea emails with updated times if there are any delays.
Frost Delay Policy
In order to provide equal opportunity for playing time to both morning and afternoon players, the following policy will apply when play is delayed due to frost.
The Golf Shop will maintain a log of frost delays for both golf courses.
The Golf Course Superintendent will determine the length of each frost delay.
The first frost delay on a given day of the week of the winter golf season will have a PLAN A in effect.
Under PLAN A, all tee times will be delayed by the length of the morning frost delay. In this case, depending on the length of delay, scheduled afternoon golfers may not have available daylight to complete 18 holes of play.
The second instance of a frost delay, on a given day of the week (Monday, Tuesday.... etc.) for either course "where afternoon times will not finish before dark", PLAN B will be in effect.
Under PLAN B, all scheduled tee times prior to the lifting of the frost delay will be cancelled. For example, if the Golf Course Superintendent determines the course is available for play beginning at 9 A.M., then players scheduled for 9 A.M. will be the first tee time for that day. All scheduled tee times earlier than 9 A.M. will be cancelled, resulting in no delays for the remainder of the day. Those players, whose tee times were cancelled due to the frost delay, may choose to play at an available tee time later in the day.
The remainder of the winter golf season at each course will alternate between PLAN A and PLAN B. The Golf Shop will determine if PLAN A or PLAN B will be in effect on a daily basis for each course based on the above parameters.
Exceptions to the above policy will be made for Charter League play. Charter League play days at each course will follow PLAN A, and all other tee times will be delayed at the course(s) where the Charter League is playing. If a Charter League is using one course and there is no Charter League play at the other course, the alternating PLAN A or PLAN B will be in effect according to the frost delay log maintained by the Golf Shop.

What will the next frost delay be? As there have been no delays this season, the next frost delay will be a Plan A at each course.
| | | |
| --- | --- | --- |
| Day of Week | Vistas | Lakes |
| Monday | Plan A | Plan A |
| Tuesday (Charter Play) | Plan A | Plan A |
| Wednesday (Charter Play) | Plan A | Plan A |
| Thursday | Plan A | Plan A |
| Friday (Charter Play) | Plan A | Plan A |
| Saturday (Charter Play) | Plan A | Plan A |
| Sunday | Plan A | Plan A |
Please continue to fill your divots and fix yours and others' ball marks. Our cart path restrictions were removed last week, so it should be a little easier to now have divot mix present after your shot. If you fill yours as well as another, we should soon have no divots to fill other than new ones we make :)
Board of Director, Jill Riedel explains how you can get involved at WBVGC.
Help out the club and volunteer to be on one of our divot repair teams. Bob Jungbluth and Dwight Groves do an outstanding job each season recruiting fellow members to help keep the courses beautiful.
Lakes Divot Repair Team Contact
Robert Jungbluth
Rjungbluth54@gmail.com
507 363 9004
Vistas Divot Repair Team Contact
Dwight Groves
dwgroves0@gmail.com
507 573 2935
Tee-Sheet Demand and Setup
We are currently alternating courses every two weeks for Thursday Double Shotguns in order to fulfill tee-time requests. With the days so short, Monday's may soon join this rotation. We are in the Holiday Season which generally has a little bit of a slowdown in numbers especially the week before and after Christmas. We will continue to adjust the tee-sheet setup to match demands as best as we can.
Thank you for being members of such a great club. Stay warm and have a great holiday season!