WBVGC: 2023 USGA Agronomist Report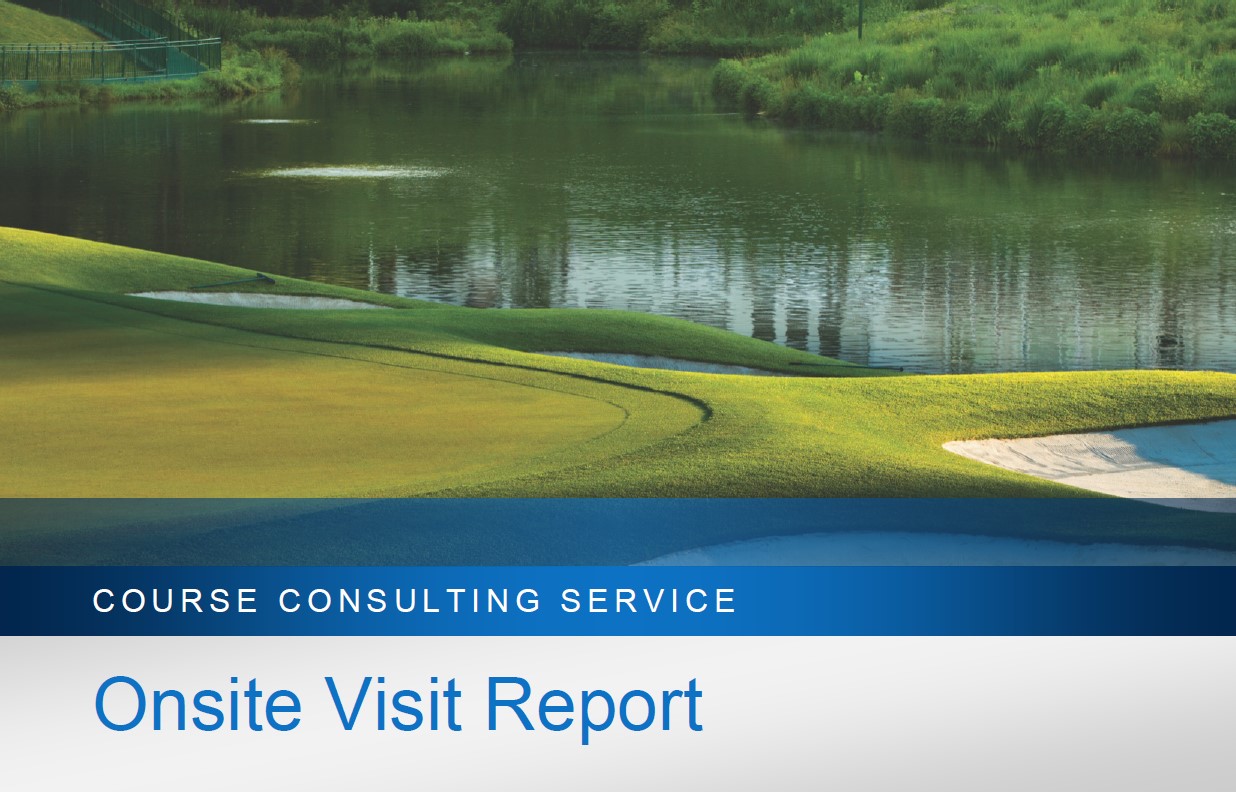 We recently hosted a Course Consulting Service visit conducted by Brian Whitlark, an agronomist from the United States Golf Association (USGA). The visit aimed to assess the condition of our courses and provide recommendations for improvements.
Attendees included Dan Benefiel, Al Curtis, Bob Harris, Robin Krapfl, Jake Lucero, Don McNamara, Jill Riedel, Brandon Evans II (Director of Golf), David Escobedo (Head Golf Course Superintendent), Jose Murillo (Superintendent, Lakes Course), Brian Gietka (USGA Green Section), and Brian Whitlark (USGA Green Section, Agronomist | Green Section | West Region).
During the visit, Whitlark observed significant progress in turf reduction on both the Lakes and Vistas Courses since the previous year. He praised the efforts of David Escobedo, the Golf Course Superintendent, and Jose Murillo, the Superintendent of the Lakes Course, in maintaining good aesthetics and playing conditions for Westbrook Village members.
The course visit fostered discussions on various aspects of golf course playability and conditioning. The following topics were covered:
Putting Greens: The greens were found to be in good health, with the Vistas greens firmer than the Lakes greens. Recommendations included utilizing spiking and small-diameter venting operations to improve water penetration and increase receptiveness, performed routinely on a monthly basis.

Fairways: Slicing, a technique used to enhance water penetration, proved effective in improving fairway conditions. The agronomist emphasized the importance of a proactive transition management program for bermudagrass, including slicing, lower mowing heights, and the use of specific chemicals. Strategies to address worn turf along lake edges were also discussed, along with adjusting overseed dates.

Tees: It was recommended to continue with tee leveling projects and consider converting to TifTuf bermudagrass.

Turf Reduction: Westbrook Village Golf Club demonstrated ongoing efforts to reduce turf, aiming to irrigate only 85 to 90 acres per golf course. These initiatives contribute to water conservation and sustainable course management.

Bunkers: While the bunkers had ample sand, compaction was an issue. Suggestions were made to use longer eyebolts on the mechanical bunker rake to routinely fluff the sand for improved playability.
The USGA agronomist's visit to Westbrook Village Golf Club provided valuable insights into the condition of the golf courses and offered recommendations for further improvement. The collaboration between club members, golf course management, and USGA representatives exemplifies a commitment to providing excellent playing conditions for Westbrook Village members. The detailed report containing additional considerations and recommendations will serve as a comprehensive resource for the club's future course management decisions.
For a more in-depth understanding of the visit and its recommendations, the complete report is available for review here. It provides a comprehensive analysis of each topic discussed, including observations and specific recommendations tailored to the Lakes and Vistas Courses.
View Past USGA Reports
Follow Us on Social Media:
WBVGC: Open to the Public May 1 - May Rates - Summer Cooler Card - Summer Closure Schedule
We are getting ready to enter our Summer season. On May 1 we have multiple changes occurring:
The golf courses will again be open to the public.
We will go into May rates.
The Summer Cooler Card will be available.
May Rates & Summer Cooler Card
We will be lowering rates May 1 in transition to our Summer Rates that will begin when the heat goes up and demand begins to slow later in the Summer. We had run into a situation in 2017-2019 where we had too high of a demand for non-member play and it was difficult to accommodate the number of cooler cards we had sold. In addition, the dramatic increase in outside play at a very low fee had a negative impact on membership. The addition of our May rate structure and increase in cooler card price has added extra membership benefit, assisted with rising costs and aided in creating a better atmosphere at the club. Below you will find the posted May Rates.
2023 Course Closure Dates
The Summer months are when our bermudagrass comes out of dormancy and boy does it grow. The bermudagrass does not begin to thrive until the Winter grass begins to disappear. The period where the winter grass starts to die and the bermudagrass starts to thrive is called "summer transition". This period is similar to the month of October when we plant the winter grass, except during the summer we keep both courses open, dont need to scalp the turf, and dont need to seed. To aid in the preparation for the summer transition each course will be closed once a week starting mid May. Once we get further into the season, course close dates are then required to keep up with course maintenance and prepare for the upcoming season. Right now is when we start actually preparing the turf to have a quality overseed in October. Please note the following summer close dates to ensure your tee time is scheduled accordingly. As the weather conditions changes, so do our close dates. You can get the latest close date schedule on
our website calendar.
Open to the Public May 1
We have been extremely successful converting to a private club November-April. This is generally not an easy process, but we have gained a tremendous number of new members with this addition, our great course conditions and our very active members. Generally, through the end of April we have many of our snowbirds begin to return to their summer homes. Over the past three seasons we have had a dramatic increase in Annual membership with more and more members staying the entire summer or at least through May. We have had to readjust rates as described above as well as change tee-sheet practices to assist in retaining and gaining membership benefit.
Over the next few months you will see many tee-times blocked off with "Member Only" typed in. These are placeholders that the golf shop will periodically add to the tee-sheet to reserve for members and or add a buffer between non-member and member play. If you see one of these times in Chelsea, it is open for you, our members, and anyone you would like to bring to the club. You will need to contact the golf shop to reserve one of these times.
During the summer we begin to see many member groups schedule as three-some's and or have many cancellation by the date of play. We have much more daylight in the summer and less play which makes three-some play possible during the hotter months. Please attempt to only reserve the times you will need and if you have changes, please notify the golf shop ASAP. Getting your final numbers correct (especially for morning times) assists the club in maximizing revenue during these months. The revenues generated during these months assist in the formulation of your annual dues and capital improvements. During May we only allow non-members 2-day advance reservations so every bit you can help in keeping your times accurate goes a long way with revenue.
We are expecting a very warm summer, but as you annual members know, its not that bad :) Thank you for being a member of such a great club. We look forward to seeing you on the courses!
Stay Up To Date and Follow Us on Social Media
WBVGC: Greens and Grounds Update - Spring is Here - The Bermuda Grass is Waking Up
It's hard to believe, but spring is upon us already. With temperatures close to the 80s we can see the plants and flowers coming out of dormancy. This includes the Bermuda grass (summer grass). The Vistas Course has a great jump on summer transition as many of the fairways are already 40% to 50% Bermuda. The Lakes Course is coming along too but will need our assistance to push it through. The next several weeks will be critical in the summer transition process. With that being said we will be lowering the height of cut at both courses to assist the Bermuda grass. We will also be doing a light vertical mowing (verti-cutting) at the Lakes Course to expose the coming Bermuda to sunlight. The more sunlight we provide the faster the transition process will be. I do not believe we will need to vertical mow the fairways at the Vistas Course at this time.
As the Bermuda grass comes out of dormancy it is important that we provide enough sunlight and moisture to keep the Bermuda grass growing. Doing so will help us have a much better transition from winter grass to summer grass. Without these procedures the Bermuda grass will not thrive which will lead to issues that will prolong the transition process which will also impacts next seasons overseed.

Another aspect to the spring warm up is that we will no longer be adding seed to the divot mix. The divot mix will now be straight sand.

I hope that everyone will continue to enjoy both golf courses and the beautiful weather that accompanies it.
Wednesday, February 22nd - CART PATH ONLY!
Both courses are cart path only today, Wednesday, February 22nd, 2023.
Thank you,
WBVGC Staff
Greens & Grounds Update - Fairway Slicing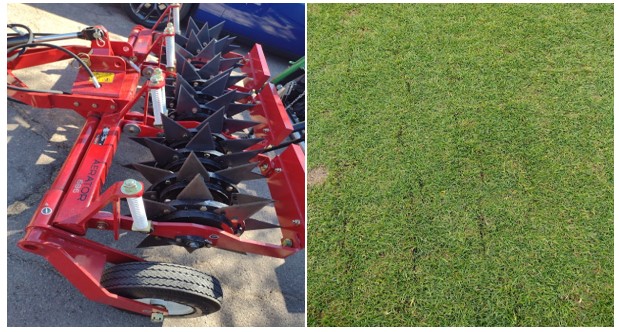 As the wetter than normal winter continues the golf courses are taking in water better than they have in previous years. We believe this is attributed to a new fairway aerification program we have adopted that creates pores in our rocky hard clay soil. These pores allow water and air to enter the soil deeper than anything we have done before. The process I am talking about is called "Slicing". Slicing creates a thin gap in the soil with minimal disruption to the golfer.
The benefits of slicing are significant. With the amount of golf cart and mower traffic our fairways deal with it is imperative that we keep the soil from getting compacted and impermeable. Slicing blades penetrate the soil 3 to 4 inches deep. They fracture the soil and create a slit that allows air and water to enter the root zone without creating holes like other aerification practices do. This results in less surface disruption.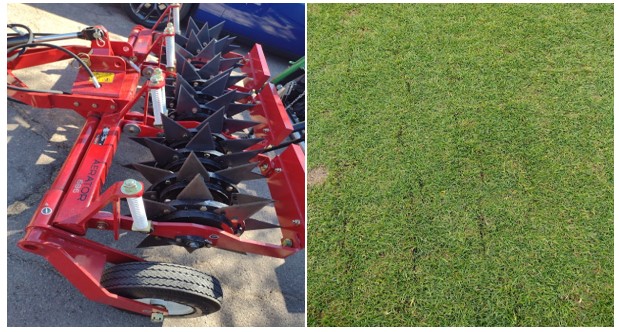 To obtain the maximum benefits of slicing we need to Slice regularly and not allow the soil to return to its concrete like characteristics. It is recommended that we Slice every two months or so in the winter and monthly in the summer. Slicing regularly will improve water penetration which improves grass roots and helps prevent wet course conditions.
I have been asked by some why we do not leave these practices for the summer and avoid interrupting the great condition of the fairways during the winter. My best answer is because there is no great time for the golf courses to be in bad shape. Slicing regularly insures that our fairways and high traffic areas avoid compaction issues that sacrifice turf quality. I compare this practice to changing the oil in your automobile. It's a small inconvenience but not doing it will create major issues.
With all this being said I hope everyone has a wonderful 2023.
David Escobedo, GCS