Greens & Grounds Update - Fairway Slicing
As the wetter than normal winter continues the golf courses are taking in water better than they have in previous years. We believe this is attributed to a new fairway aerification program we have adopted that creates pores in our rocky hard clay soil. These pores allow water and air to enter the soil deeper than anything we have done before. The process I am talking about is called "Slicing". Slicing creates a thin gap in the soil with minimal disruption to the golfer.
The benefits of slicing are significant. With the amount of golf cart and mower traffic our fairways deal with it is imperative that we keep the soil from getting compacted and impermeable. Slicing blades penetrate the soil 3 to 4 inches deep. They fracture the soil and create a slit that allows air and water to enter the root zone without creating holes like other aerification practices do. This results in less surface disruption.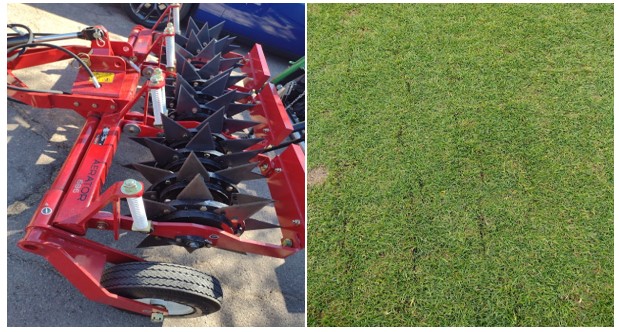 To obtain the maximum benefits of slicing we need to Slice regularly and not allow the soil to return to its concrete like characteristics. It is recommended that we Slice every two months or so in the winter and monthly in the summer. Slicing regularly will improve water penetration which improves grass roots and helps prevent wet course conditions.
I have been asked by some why we do not leave these practices for the summer and avoid interrupting the great condition of the fairways during the winter. My best answer is because there is no great time for the golf courses to be in bad shape. Slicing regularly insures that our fairways and high traffic areas avoid compaction issues that sacrifice turf quality. I compare this practice to changing the oil in your automobile. It's a small inconvenience but not doing it will create major issues.
With all this being said I hope everyone has a wonderful 2023.
David Escobedo, GCS